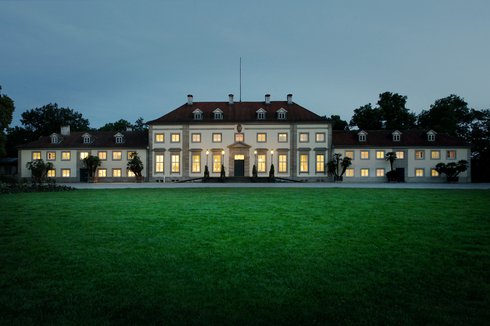 Welcome
The Museum Wilhelm Busch -  The German Museum for Caricature and the Art of Drawing, is situated at the heart of an English landscape garden. Regular exhibitions showcase works by great humorist, satirical artists, from Wilhelm Busch to Loriot, from William Hogarth to Marie Marcks and Friedrich Karl Waechter, as well as illustrations of children's books by Axel Scheffler or Rotraut Susanne Berner, among others. However, exibitions are not the only attraction for international visitors. The classicist palais and its beautiful garden are also the venue for the many musical, literary or culinary events that accompany the exhibitions. Workshops invite visitors to experience their own creative potential, children find a friendly space for discovering their joy in art and creativity.
The main and central concern of the Museum is its huge collection
The Museum considers it its main responsibility to highlight the contributions that caricature and satire have been adding, in many and varied ways, to the artistic and sociopolitical positions defining our society. Caricature and satire, with ridicule, humour, and irony as their modes of articulation, have been a fundamental part of any enlightened society that engages in and shapes the vital questions of its time.
The main and central concern of the Museum is its huge collection: the entire work of Wilhelm Busch, and the collection of caricatures that reflects the history and the development of this art form, from 1600 to the present day. In 2011 the Museum was endowed  with the Ronald Searle estate, which is an eminent example of the international rank of the Museum. In the context of  these collections the Museum also engages in research: at present its focus is on a historical critical edition of Busch's complete illustrated stories and on the work of Ronald Searle. The Museum profits hugely from its contact with international researchers.
The Wilhelm Busch Gesellschaft is the main support of the Museum – and one of the  largest literary associations in Germany. As a private institution the Museum thus owes its existence to civil commitment, and would not be able to exist without this continual support. The City of Hannover, the capital of Lower Saxony, grants an annual, institutional support; foundations, enterprises and private sponsors contribute to various projects.